Rock Climbing Toronto kids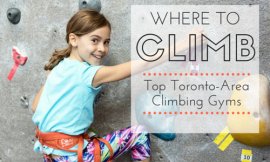 If your kids are scaling the furniture or the walls at home, maybe it's time to give rock-climbing a try!
These eight Toronto and GTA climbing gyms have programs for kids as young as ages 4 to 6. You can climb with your kids, or drop them off for lessons and programs with instructors.
Most climbing facilities have both belaying (ropes and harnass climbing) and bouldering (ropes-free climbing), but some only have one or the other—and some only allow belaying for older kids. Be sure to check ahead if you're particular.
All facilities require inexperienced climbers to take an intro session or an introductory session or class. All have day rates and membership options. And all require a parent to sign a waiver—so if you're sending your child with another adult, be sure to do this in advance!
Toronto
In this 22, 000-square-foot facility in Liberty Village, kids ages 10 and under can climb with an experienced adult. If you aren't an experienced climber, instructors are available for Kids Climbs for ages 13 and under. (You'll need to make a reservation 48 hours in advance and have a minimum of three climbers.)
If your child wants to become a "real" climber, consider the School of Rock 10-week after-school program for ages 7–13. Individual lessons are available for youth ages 14+ and adults. Birthday parties.
35 Fraser Ave.
416-538-7670
www.joerockheads.com
Toronto, Etobicoke
Boulderz has roped climbing and bouldering for kids and adults in two locations: Etobicoke and the Junction Triangle. First-times can do the Intro to Boulderz program (adults must accompany kids).
Other options for kids include: drop-in climbing, which is open to all ages on Sundays—but with a minimum of one adult per three kids under age 14; group belay classes; after-school programs for specific age groups (4–5, 6–10, 11–17); and day camps. Kids can also take a group belay class. Got a wee one? Check out Mommy Rok, for moms with babes up to 12 months! Birthday parties.
1444 Dupont St., Toronto
416-516-6666
80 The East Mall, Etobicoke
416-255-6676
www.boulderzclimbing.com
In this 12, 000-square-foot facility in the Downsview Park Sports Centre, kids can do rock-climbing, bouldering, slacklining, and take part in indoor games (outdoor in summer). Two-hour, drop-off supervised climbs are available for kids ages 7–12 every weekend; reservations are required.
True North also has a variety of school-break and summer camps and after-school programs for ages 5–18 and birthday parties.
75 Carl Hall Rd., Toronto
416-398-7625
www.truenorthclimbing.com
The East York climbing facility has 11 distinct climbing areas, 80+ climbing stations, and more than 4, 000 square feet of bouldering. For kids, there's climbing with TCA staff on Saturdays (ages 6–12), school-break and summer camps, and six-week courses for ages 4–18, plus birthday party packages. Parents who've taken a beginner belay course can climb with kids independently.
Share this article
Related Posts